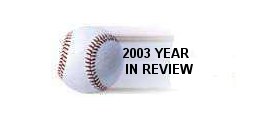 WEEK 1
Roughriders 2, R. Clemente 1
June 2, 2003
HADDONFIELD - The Roughriders defeated Roberto Clemente 2-1 in the team's season opener. Butch Magliaro (1-0) picked up the win in his Roughrider debut, pitching a complete game, six-hitter with seven strikeouts. Clemente broke through in the top of the fourth with a single tally, but the home team would take the lead for good in the fifth. Phil Arena started the rally when he was hit by a pitch. After a walk to Dave Page, Ian Wallace's infield single loaded the bases for Matt Longo. Longo's sharp single to center scored Arena to tie the game. Mike Carlino then walked to force in the game winner. Wallace finished 2-3.
Roughriders 10, Bellmawr 2
June 3, 2003
BELLMAWR - Granville Gehris, who missed all of last year with an arm injury, successfully returned to the Roughrider rotation on Tuesday in a 10-2 victory over host Bellmawr. Gehris threw four innings, allowing just two hits while striking out four. The Roughriders banged out 10 hits on the night, led by Mike Montanero (3-4) and Mike Carlino (2-4, 2 2B). Newly acquired Tom Ford finished up, pitching three innings of two-hit ball (4 K).
Roughriders/Ott's PPD
June 4, 2003
WASHINGTON TWP- Wednesday's game between the Roughriders and Ott's has been postponed due to inclement weather. No makeup date has been determined.
Roughriders 1, Kepple's 1
June 5, 2003
HADDONFIELD - The Roughriders and Kepple's played to a 1-1 tie on Friday night. Three pitchers combined on a two-hitter for the home team. Brain Spicer pitched five innings, allowing two hits and striking out four. Drew Perry and Tim McKenna eached pitched a perfect frame in relief of Spicer to help keep the game tied. The lone Roughrider run came on a single by Mike Carlino in the third. Back-to-back singles by Ian Wallace and Matt Johnson setup the Carlino RBI. Carlino finished 2-4 while Wallace went 2-3.