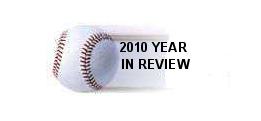 WEEK 1
Roughriders 4, Cherry Hill West 1
June 2, 2010
LINDENWOLD - The Roughriders christened their new home field with a win, defeating Cherry Hill West 4-1 on Wednesday night in the season opener for both teams. Adriano Petrutz lead off the bottom of the first with a homerun to left for a quick 1-0 lead. Andrew Frangos hit a two-run shot to left with Petrutz aboard to make it 3-0 in the third. That would be all the runs starter Mike Reagle would need. Reagle went four innings, giving up five hits and an earned run. He struck out four and walked just one. Brian Spicer earned a save by throwing no-hit ball over the final three innings (1 BB, 2 K).
Deptford 7, Roughriders 6 (5 innings)
June 3, 2010
DEPTFORD - Deptford doubled in the the winning run with two outs for a 7-6 victory in a game shortened to five innings due to darkness. Jeremy Dilks singled in Adriano Petrutz (leadoff double) for a 1-0 lead in the first. The Roughs extended their lead to 2-0 courtesy of Rob Oryl's RBI single in the third. Deptford then proceeded to take the lead with a six-run third, all scored with two outs. The team battled back to knot the game at six with a four-run fourth, highlighted by RBI's from Eric Juliani and Andrew Frangos. But Deptford then got a two-out double with a runner on second to end the game in the fifth. The Roughs out-hit Deptford nine to four but were undone by six walks and two errors.
Roughriders 10, Golden Nugget 3 (6 inn)
June 4, 2010
HADDONFIELD - The Roughriders exploded with double digit runs for the first time this season in a 10-3 win over visiting Golden Nugget. Haddonfield native Derek Zaleski earned the win in his first start for the Roughs. After giving up a three-spot in the first, Zaleski settled in to limit Golden Nugget to just a one hit over the next four innings. He struck out two and walked none, giving up four hits in total. The Roughs responded with their own five-spot in the first to take the lead for good. Andrew Frangos went 1-2 with two runs and two walks, including an RBI triple. Jermey Dilks went 1-2 with two runs, two walks, and a double.