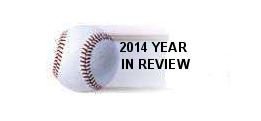 WEEK 1
Deptford 8, Roughriders 7
June 3, 2014
WEST DEPTFORD - The Roughriders battled back from a 7-0 deficit to eventually tie the game at 7-7, but Deptford won it with a walk-off, bases loaded single and recorded an 8-7 victory. With the score 7-3 in the sixth, Adam Bartholomew and Ryan Easterday hit back-to-back homers with two outs to close the score to 7-5. After Greg Myers singled and advanced to second on an error, Dene Vespe doubled Myers home to make it 7-6. In the seventh, Bartholomew's two-out, RBI double scored Mike Byrnes to tie the game, but Alex Reinicker was ruled out at the plate trying to score from first to keep the score even. Deptford then in their half loaded the bases without a hit and ended the contest with a clean single through a drawn in infield. The Roughriders threw four pitchers in the opener. Nick Cavanaugh (2 IP, 1 H, 0 R, 3 K) started, followed by Mike Reagle (1 IP, 4 H, 4 ER, 2 BB), Dave Young (2 IP, 3 H, 2 ER, 2 BB, 5 K), and Eric Juliani (1+ IP, 2 H, 1 ER, 2 BB, 1 K).
Camden 8, Roughriders 4
June 6, 2014
CAMDEN - Camden jumped to a 4-0 lead after two innings and defeated the Roughriders by a score of 8-4. This was the fourth consecutive wins by Camden over the Roughs dating back to last year. Adam Bartholomew had an RBI double in the fourth and Dave Young went 2-4, including a double and RBI triple. The Roughs used four different pitchers for the second game in a row: Mike Wasienko (2 IP, 6 H, 4 ER, 2 K), Dene Vespe (2 IP, 0 H, 0 ER), Dan McKenna (1 IP, 0 H, 1 ER, 1 BB, 1 K), and Drew Williams (1 IP, 1 H, 3 ER, 3 BB). Wasienko took the loss.