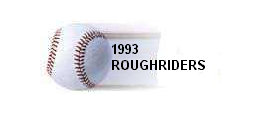 2003 marked the 10th anniversary of the Roughriders' 1993 TriCounty championship team, perhaps the franchise's most determined and focused group. With a mark of 23-4-1, the Roughs clinched their second straight regular season title, but the road to the championship would not be easily navigated once the playoffs began.
Playoff opponents Cherry Hill and Bellmawr would take the first game in each of the best-of-three first and second round series, but the Roughriders responded by winning two straight both times to advance to the next round. The finals, versus Doctor Connor, would take on a different scenario. A Game One rout by the Roughriders put the team just one game away from the title, but Doctor Connor showed their own grit by winning Game Two, forcing a deciding game at Radnor. That game, which went back and forth, entered the last half of the seventh with the Roughs trailing 5-4. Appropriately, the game and series ended courtesy of Ted Frangos, who doubled in the winning runs for a stirring 6-5 Roughrider victory.
>View '93 Boxscore - Game 3
>Courier Post Coverage
A complete roster from 1993 and photos from Game Three are provided below.
| | |
| --- | --- |
| | |
| | |
| George Lovett | BJ Amorelli |
| Mark Kraus | Lee DeLoach |
| Casey Carpenter | Bill Kohut |
| Tom Gallagher | Pete DiLorenzo |
| Bill Wilkinson | |
| Mike Harris | |
| Mike Tomasello | |
| | |
| Ted Frangos | Gary Urban |
| Andy Shover | Bill Reilly |
| | Scott Mangold |