Ted Frangos started the Roughriders TriCounty baseball team in the summer of 1986, serving as both player and manager through the 2000 season. Frangos helped lead the franchise to three regular season titles (1992, '93, and '95) and its only playoff championship ('93). The burly catcher, known for his hardnosed play, outspokenness, and dedication, sat down with Roughsbaseball.com before the start of the 2004 season to answer questions about what the 46 year-old former backstop is doing these days.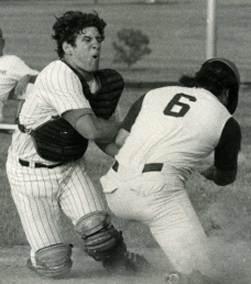 Roughsbaseball.com: The last few years, you've only been seen occasionally at Roughrider home games. What have you been doing with yourself as far as baseball?

Ted Frangos: My kids have been in Little League and I've spent more time coaching them and being involved in running the Haddonfield Little League. I am currently the President of the league and am involved in improving the skill level of the young baseball players coming through. Plus I'm involved in some plans to improve the fields in town including Radnor, which in the seventies was largely regarded as the nicest high school field in South Jersey.

Roughsbaseball: Just because you haven't been seen at The Rad, you still have a connection with the team. What have you been doing behind the scenes to promote Roughs' baseball?

TF: Every young player I see I try to steer towards the Roughs and I have the name of one pitcher for you, Zac Clark. I'll get you a number.

Roughsbaseball: You were an All-South Jersey player at Haddonfield (1976) and went on to play college ball at Princeton? What was your more memorable baseball moment?

TF: It would have to be hitting a three run homer to beat Temple 5-4 as a senior. They were one of the best teams in the east at the time and always beat us. I also played in the New Jersey-New York College All-Star Game which was held at Yankee Stadium which was a pretty cool place to play.

Roughsbaseball: How about TriCounty baseball? Your most memorable moment?

TF: Hitting the ground rule double to knock in Bill Kohut and George Lovett to beat Dr. Connor 6-5 and win the championship. That would be known today as a walkoff double if there can be such a thing!

Roughsbaseball: Of all the pitchers you've caught in TriCounty, who was the most impressive?

TF: It would have to be George Lovett who at one point as a Roughrider won 25 games in a row without a loss. He was untouchable over that period of time.

Roughsbaseball: Final question: any desires to play with your son one day in TriCounty in a Roughrider uniform?

TF: He and I have discussed it and the time is not too far away. He is 15 and about 5'10" and 165lbs, so he is almost ready.

Roughsbaseball: Ted, thanks for allowing us to catch up with you. The entire Roughrider squad hopes to see you around this summer at The Rad.
Ted currently resides in Haddonfield with his wife Suzanne, daughter Juliana, and son Andrew.