Lee DeLoach was one of the smoothest fielding second basemen during his playing time in TriCounty, which spanned from 1987 through 1999. In addition to his fine glove work, Lee could be found in his usual three-slot in the batting order where he consistently put up outstanding numbers. His TriCounty career was put on hold when he was drafted in the 13th round by the LA Dodgers in 1989 out of Rutgers-Camden, but Lee would return to the Roughs in 1991 and play a huge role in the teamís success during the 90ís. Roughsbaseball.com reunited with DeLoach in the spring of 2005 to talk about his pro and amateur career.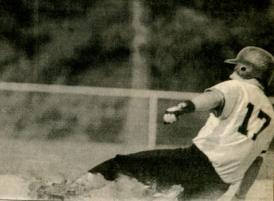 Roughsbaseball.com: You last suited up in 1999 as a Roughrider. What have you been doing since then?

Lee DeLoach: Well, as far as baseball goes, I had to give up playing because I have a tear in my left shoulder that causes it to separate when under stress. It especially would "pop out" when I tried to hit an inside pitch, so when that happened, I felt it was time to hang it up. I started playing softball for a church team with my brother in 2002 and have loved it. Its not hardball, but playing with my younger brother has been a blast. Our team has been pretty good too, making it to the championship in 2002,and going 15 and 1 in 2004 only to lose in the semifinals. We think that this summer will be the year. Hitting is not as stressful on the shoulder, so I enjoy it. As far as the rest of my life, I am happily married to my wife Sandi, and we have a beautiful daughter Elizabeth who is 20 months. I still teach high school band at Audubon High and live in Mickleton.

Roughsbaseball: You were the first Roughrider taken in the MLB Amateur draft and played one season in Montana for the Dodgers' rookie team. What do you remember most about that?

LD: What I remember is that it was the greatest time in my life. I sat the bench a lot, but more importantly learned how to live on my own and played on one of the best teams I ever was a part of. I was honored to even be drafted, especially out of Rutgers-Camden, and I felt a lot of pressure to do well. That probably hindered me because I didn't play as well as I should have initially. It took me awhile to adjust to the wood bats and tougher pitching, and I really didn't start to play well until the last month of the season. It still was an awesome experience, and one that I will never forget.

Roughsbaseball: What was it like playing for Ted Frangos?

LD: Ah, Ted. Ted was fiery, hilarious, dedicated, strong-willed, smart, witty, tough, serious, comical, athletic, strong....could I think of more adjectives, yes I could, but I'll stop. Ted was a great guy to play for, and more importantly, he would do anything for the team and his players and that's what was the best about him. He loved baseball, but he also loved having all the guys around him, and truly went through a lot to field a Roughrider team each summer. He also was a pretty darn good catcher in his day. He even helped me buy my first house, so that shows how he cared about his players, and still does to this day I'm sure.

Roughsbaseball: What is your most memorable moment while playing for the Roughs?

LD: Easily, that would be winning the championship in the early 90's. That team, and even a couple years after, was stocked, and I honestly felt like it could have given some of the minor league teams I had played against with the Dodgers a run for their money. There are plenty of great moments with the Roughs, but the championship, when Ted hit the double to win it, was perfect.

Roughsbaseball: Who was the toughest pitcher you faced during your playing time in TriCounty?

LD: The toughest in TriCounty for me was probably the guy from the Haddon Heights' team who played pro ball - John Githens. He was a righty who threw gas, and came at you from an angle that made it seem like he was throwing at you, which made it uncomfortable to hit against. I remember one time him sailing one over my head, wondering if he meant it or what...

Roughsbaseball: The infield of yourself, Bill Kohut, Pete DiLorenzo, and BJ Amorelli was generally regarded as the best in TriCounty during the early 90's,....what was the key to that group's success?

LD: Well, first, we all enjoyed playing together, and second, we all wanted the ball hit to us all the time. The double play was our lifeline, no doubt. We didn't like ground balls to get through, and we hated not turning two when we had the chance. Pride was a big factor, and obviously talent. We had confidence in each other too, and that makes a difference on the field.

Roughsbaseball: Lee, it has been great reminiscing with you about your playing days with the Roughriders and what you've been doing personally since then. The entire organization hopes to see you at a few games this coming summer.