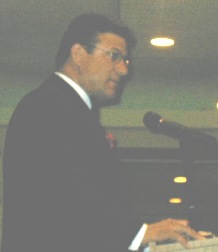 On April 23, 2005, the Haddonfield Memorial High School Athletic Hall of Fame inducted 10 members who have made outstanding contributions to the Haddonfield High School athletic program. One of those 10 people included the Roughriders' Ted Frangos.

Frangos began his acceptance speech by thanking his parents, and particularly his mother, who Frangos accurately described as "clutch". She was always there whenever he needed something when it came to competing in sports. Clutch is a word that could equally describe her son who had a stellar career in Haddonfield after moving from Camden at the age of eight. Frangos varsity lettered in three sports during his athletic career at Haddonfield: football (three years), basketball (one year), and baseball (three years). A fullback and linebacker, Ted was named to the All-Colonial Conference and All-South Jersey first teams his senior year. As a catcher on the baseball team, Ted had a .390 batting average on the 1976 Colonial Conference championship squad and was named to several first team all star squads, including the Suburban and All-South Jersey Group II teams. At Princeton University, Ted played three years of varsity baseball. As the team's first baseman his senior year, he batted .392, tied for first in homers, and was named team MVP.

After graduating from Princeton, Ted would meet his future wife Suzanne and move back to the town in which he excelled scholastically and athletically. Their two children, Andrew and Juliana, are both active in the Haddonfield sports scene. And Frangos remains a major player in organizing various youth baseball teams in town, as well as keeping close tabs on the Roughriders.