Pete DiLorenzo played for the Roughriders from 1990 through 2002. The left-handed swinging third baseman was one of the most talented players to pass through Radnor Avenue during his 13 year tenure with the team. DiLorenzo, who manned the hot corner for most of his career and provided the Roughs with excellent defensive play, was a key member of the 1993 championship team. Roughsbaseball.com recently completed an interview with the sweet-swinging lefty about his what he is doing now, his college days, and of course his time with the Roughriders.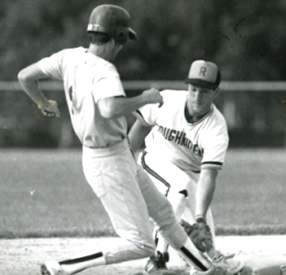 Roughsbaseball.com: 2002 marked your last season with the Roughriders. What have you been doing baseball-wise since then?

Pete DiLorenzo: Since 2000, I have been playing with an Over-Thirty baseball team called the Collingswood Reds, who only play on Sunday mornings. We've won two state titles in my five years there. I have also done some coaching, serving as an assistant on last year's Camden County College baseball team.

Roughsbaseball: How about personally?

PD: In 2002 I was married to my wife, Rhonda, and just last year we had our first child Abigail. Professionally, I have been teaching at Camden County College as an assistant professor in Health and Exercise Science. And I've finished my Ph.D. in Kinesiology from Temple University.

Roughsbaseball: You attended Richmond University, a Division I school which takes its baseball seriously. What are your personal memories from that experience?

PD: My first year being away from home was difficult. I always had a good work ethic and wanted to be a good Division I baseball player so my family and friends would be proud. One year the basketball team was playing George Mason in the Colonial Conference tournament and all my friends and practically the entire campus was having a great time at the game while I was taking BP in the indoor cage in the attic of the basketball stadium....in a game versus the University of Maryland in early March we were in a tie game, freezing cold and snowing in the 8th inning. We got a man on base and I was asked to bunt. They made a pitching change to bring in a hard throwing lefty with a weird windup. I got the bunt down and we eventually won the game. I was very proud of myself, not to hit a homerun, but to execute a bunt. It was always cold in the early going at Richmond....I remember shoveling off the outdoor batting cage in February so I could hit live outside.

Roughsbaseball: Thankfully those cold days didn't require wood bats, although many people are pushing for that at the college level. You played in both the aluminum bat era in TriCounty and then in the years requiring wood bats that followed. Any preference?

PD: I prefer wood. Aluminum bats make the mediocre/poor hitter look good. The good hitters can use aluminum, wood, plastic, you name it and they hit!

Roughsbaseball: Who were the good players you went up against while at Richmond?

PD: The one I remember was Wayne Gomes from Old Dominion University, who of course played for the Phillies. I did room with a pitcher who was on Team USA, and did pick up some things to help my game from him.

Roughsbaseball: You played infield, including second and first, and some outfield with the Roughriders. But you were known throughout TriCounty as a top-flight third baseman. What was your favorite position?

PD: First base was my favorite position. I played first in junior college but Richmond scouted me to play third base. I screwed around in a scrimmage game at Richmond at second base and my coach liked my quick hands, so that's how I ended up at second in school.

Roughsbaseball: Every former Roughrider seemingly points to the 1993 championship as their best TriCounty memory. Besides that, what sticks out in your mind?

PD: I loved playing with the Roughs in the old days. I remember going to practice on a hot July Sunday evening thinking nothing about any other commitment but playing baseball. I remember we could field an entire team with the guys that showed up for practice religiously....me, Billy (Kohut), BJ (Amorelli), Lee (DeLoach), Gary Urban, Mark (Kraus), Ted (Frangos), Gary Septer, etc....those were the days.

Roughsbaseball: Pete, continued success in your professional and personal life. Thanks for spending some time with us and we hope to see ol' #18 at a few games this season.