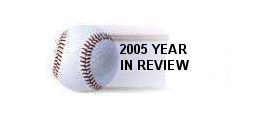 WEEK 1
D'Andrea 7, Roughriders 2
June 2, 2005
HADDONFIELD – The Roughriders dropped their season opener to D'Andrea by a score of 7-2. Mike Carlino led off the game with a triple to centerfield and scored on a wild pitch for a short-lived 1-0 lead. D'Andrea scored three in the second to take a 3-1 lead before Brett Young's RBI single made it 3-2 in the third. A four spot in the bottom half by D'Andrea finished off the scoring at 7-2. Mike Reagle took the loss with two innings of relief work (4 H, 4 ER 4 BB, 2 K) for injured starter Rob Schork. Bill Opel finished out the game, yielding a hit and striking out three in two innings.
Deptford at Roughriders, PPD
June 3, 2005
HADDONFIELD - The game between the Roughriders and Deptford was postponed due to inclement weather. The game will be made up on Friday, July 29.