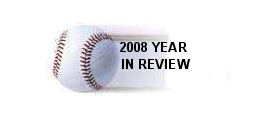 WEEK 1
Conlin Baseball 3, Roughriders 1
June 2, 2008
WASH TWP - The Roughriders dropped a 3-1 decision to Conlin Baseball in the season opener for both squads. Ryan McNamara got the starting nod and pitched well over five innings (5 IP, 3 H, 2 ER, 4 BB, 7 K). The Roughs struck first when Dave Vadurro doubled to leadoff the second and advanced to third on Mike Plakis' single to left. Mike Carlino's grounder to third was then throw away allowing Vadurro to score for a 1-0 lead. But the Roughs would squandered runners at second and third with nobody out, failing to push across any more runs in that inning or the rest of the game. Conlin responded with single tallies in the third, fourth, and fifth innings to take the lead and finish off the scoring.
Roughriders at Golden Nugget, PPD
June 4, 2008
WINSLOW TWP - The game between the Roughriders and Golden Nugget was postponed due to inclement weather. The game will be made up on July 3 in Haddonfield.
Roughriders 5, Camden 2
June 5, 2008
FAIRVIEW - Phil Arena hit a home run and Brian Spicer pitched three innings of near perfect baseball in the Roughriders 5-2 win over Camden. The win was the first of the season for the Roughs, who evened their mark at 1-1. Spicer started and allowed only one base runner (hit batter) in his first work of the season (3 IP, 0 H , 3 K). Mike Cummings, also making his debut on the mound, pitched the final four innings (4 H, 0 ER, 1 BB, 5 K) to pick up the official win. Andrew Frangos doubled in Rob Oryl in the second inning for a 1-0 lead. Oryl and Paddy McNamara delivered RBIs in the fourth to build the lead to 3-0. Arena homered in the seventh, a solo shot, to make the the score 5-2.
Roughriders 6, Golden Nugget 6 (6 innings)
June 6, 2008
HADDONFIELD - The Roughriders tied Golden Nugget, 6-6, in a game shortened by darkness on Friday night. The Roughriders erased a quick 2-0 deficit in the first on RBIs by Dave Vadurro, Mike Carlino, Mike Plakis, and Paddy McNamara to gain a 4-2 lead. Golden Nugget took another short lived lead of 5-4 into the bottom of the third, but Rob Oryl's two-out single scored Carlino to tie it. The Roughs would pull ahead 6-5 in the fourth on Mike Cummings' single which plated Phil Arena, who singled to leadoff the inning. An unearned run in the sixth would tie the game again, and the Roughs were unable to push the winning run across in the bottom half after loading the bases with one out. Steve Wyland finished 2-3 with a run, walk, and stolen base. Carlino collected two hits, including a double.