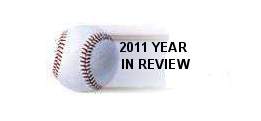 WEEK 1
Cherry Hill West 3, Roughriders 2
June 1, 2011
LINDENWOLD - The Roughriders opened their 2011 season the way they ended the 2010 season, with a loss to Cherry Hill West. West pushed across a run in the top of the seventh inning for a 3-2 victory and spoil the Roughriders' season opener. Cherry Hill took a 2-0 lead in the second off of Andrew Del Rossi (3 IP, 4 H, 2 ER, 0 BB, 1 K). Mike Reagle kept the Roughs close by pitching two scoreless frames of no-hit ball (0 BB, 2K) in innings four and five, and the Roughs then rallied to tie the game in the sixth. Adriano Petrutz and Phil Guinto both singled to begin the inning. Eric Julianiís sac fly scored Petrutz and Ryan Easterdayís two-out double scored Guinto. But Cherry Hill would tally a single run in the seventh off reliever Frank Houser (2 IP, 2 H, 2 BB, 1 K) to take the game. Chris Bartell had two of the Roughriders' seven hits.
Roughriders 6, Bellmawr 5
June 3, 2011
HADDONFIELD - Mike McGee's two-out, RBI single culminated a four-run rally in the last half of the seventh inning, sending the Roughriders to a 6-5 win over defending champion Bellmawr on Friday night. Trailing 5-2, Andrew Juliani started the comeback with a single. After Bellmawr got the next two outs, Rory McTear walked and Phil Guinto followed with an RBI single cutting the lead to 5-3. Eric Juliani's squibber to short was played into an error, setting up Chris Vonderschmidt (2-4, 2 RBI) who delivered a two-run single to tie the game. McGee then sent the first pitch he saw into left field for the game winner. Ethan Rhinehart picked up the win, throwing a scoreless seventh. Derek Zaleski started the game and went three innings, only yielding a hit and striking out one. McGee finished with two hits.