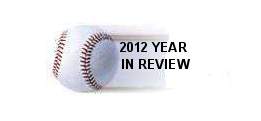 WEEK 1
Deptford 6, Roughriders 2
June 4, 2012
DEPTFORD - The Roughriders lost their season opener to host Deptford by a score of 6-2. The Roughriders managed just a single hit in the game, a third inning RBI single by Dean Wilson which scored Sean Menickella. Eric Juliani's RBI fielder's choice accounted for the other run in the same inning. Dan Synder started and took the loss (3 IP, 5 H, 2 ER, 1 BB, 4 K). Mike Reagle (2 IP, 1 H, 1 ER, 1 BB, 2 K) and Jackson Miller (1 IP, 1 H, 1 ER, 3 BB, 1 K) finished up out of the bullpen.
Camden 7, Roughriders 2
June 6, 2012
LINDENWOLD - The Roughriders dropped their home opener and second straight game, this time to Camden, 7-2. The Roughs fell behind 4-0 in the third inning before getting bases loaded walks from Phil Guinto and Dan Diorio to close the score to 4-2. But Camden tacked on three more runs in the fourth to finish the game's scoring. The Roughs amassed nine walks over the first five innings but were unable to capitalize. Dean Wilson went 2-3 with a walk and run scored. The Roughriders close out the week in Haddonfield versus Red Dwarf's.
Roughriders 1, Red Dwarf's 0
June 8, 2012
HADDONFIELD - Roughrider pitching limited Red Dwarf's to just one hit on Friday night, leading the team to a 1-0 victory. Dean Wilson started and threw five strong innings to earn the win, allowing just a scratch single in the third inning. He struck out five and walked three. In a scoreless tie, Rory McTear was hit by a pitch with two outs in the fifth. Dan Synder then singled, setting up Eric Juliani's game winning RBI single. Ryan Easterday pitched two perfect innings to earn the save. Dan Snyder had three of the Roughriders' four hits.